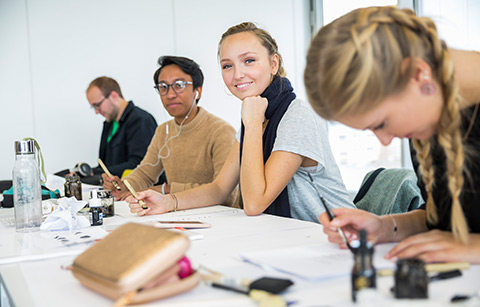 Tomorrow's world needs people who think outside the box!
Interested in graphic design, interior design, and 3D design? In the fascinating link between product design and manual skills – or the unique "Event Engineering" course which combines event technologies with event management? Entrepreneurship and business management or our part-time master's courses on Electromobility and Energy Management or Innovation and Intellectual Property?

Yes? Then these are the next steps to getting started with your studies – after all, the future won't wait!
No matter where you see your future: you are just a few steps away from studying at the New Design University.

1. If you have any questions: call us or send us an email (Infoline: +43 (0)2742 851 24180 or info(at)ndu.ac.at – Monday to Friday from 9am till 4pm).

2. Arrange a personal consultation appointment with our teaching staff! They'll be happy to answer your questions about courses and your application. If you already have a portfolio of your work, bring it along to your appointment – that allows us to give you immediate feedback about your design work and you to prepare for the entrance exam in good time.

3. No need to worry about tuition fees! Our team will be happy to give you details about scholarships, grants, student loans on easy terms, and other ways of financing your studies at the NDU. However, please note that most public grants require a prior three-year residence in Austria before applying.

4. Use the registration form on our website to register quickly and easily for the entrance exam (for your chosen course).

The next entrance exams will take place on:

Saturday, 23 January 2021 (Registration deadline: 17 Jan 2021)
Saturday, 29 May 2021 (Registration deadline: 23 May 2021)
Saturday, 28 August 2021 (Registration deadline: 22 Aug 2021)

5. As soon as you have registered for the entrance exam, our team will get in touch with you, confirm your registration, and inform you about further details (any certificates and documents you need to bring along, etc.).

6. Prepare for the entrance exam – and if any questions crop up, don't hesitate to get in touch!

7. Just come along to the entrance exam nice and relaxed: we wish you good luck and look forward to welcoming you as a new student to the New Design University in October!


Please refer to our FAQs and the Scholarships & Funding section for more details.