Didgeridoo
Applied Event Technology II
5th semester
Laura Marker and Johannes Faffelberger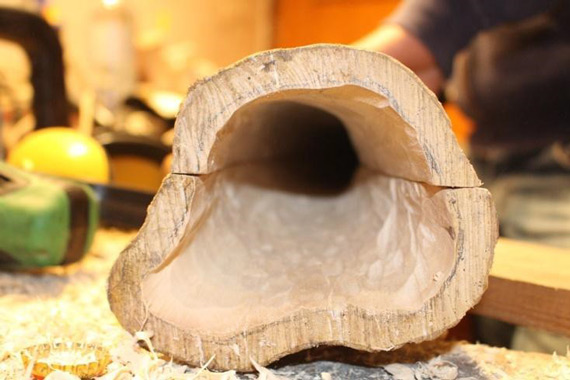 The two event engineering students Laura Marker and Johannes Faffelberger swapped electronic event technology with the construction of their own didgeridoo as part of the course Applied Event Technology II. They tell about the construction and small challenges in the production:
"To hollow out the trunk, it has to be split lengthwise, as we don't have the necessary tools and don't command enough courage, we turn to a carpenter, who split the trunk for a small fee, and then we bring the two halves back into our workshop to hollow out the trunk and create the sound space. Therefore we are marking the area we want to cut out."



"First, we tried to pry the wood by hand, but because the hornbeam is an hardwood, it's not only tiresome, but also terribly slow, so we switch to the Woodcarver, which turns out to be a wise decision. The Woodcarver does his job fast, but not very well. Therefore the walls must be reworked by hand, this is why we resort to the previously replaced chisel. The division of labor is quickly becoming clear: While Johannes works with the Woodcarver, Laura works out the finer points. To make the surface as smooth as possible we use sandpaper and finally the Bunsen burner."



"After regrinding, it's finally time to put the two halves together, using wood glue and several screw clamps to dry the glue for 24 hours. After we've dismantled the clamps and the rope, we start to hone the bark. Again, we start to do it by hand, but soon realize that it is easier to remove the bark with the fan washer, and now the beautiful light beech wood shows up. We even discover a wood worm and its gait, which we remove. After haul the whole bark, we try to remove any scratches. Then we oil the inside of the didgeridoo with linseed oil to prevent cracks."