First Graduation of the Food Design Course
Successful completion of the first Austria-wide unique university course "Food Design" at the New Design University (NDU) St. Pölten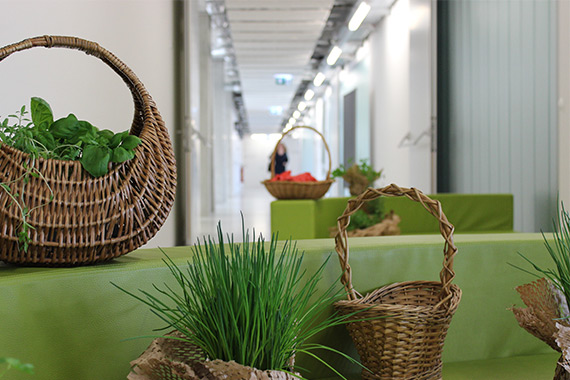 Under the motto »Little Red Riding Hood« the first cohort of the university course »Food Design« had to develop an overall gastronomic concept. The presentation of the final project took place on the 28th of January in front of the course leaders Sonja Stummerer and Martin Hablesreiter (also known as »honey and bunny«) and invited experts. After eight different overall gastronomic concepts had been worked out in the last weeks of the three-semester course, the participants chose the final project by secret ballot. »In addition to a consequent elaboration of the gastronomic design concept, which was dedicated to the idea of a narrative that could be experienced and eaten, a special challenge was the joint work of all food designers«, Hablesreiter, head of the course, explained the task. »We deliberately focused on cooperation in order to draw attention to potential and difficulties in cooperation projects«. Rector Herbert Grüner was enthusiastic about the atmospheric final presentation and congratulates the entire year on its successful graduation.
About the course
The university course »Food Design«, which has been offered at NDU since autumn 2017, is unique in the entire German-speaking region. The course is project-oriented and the participants are trained in three semesters to become critical and experimental designers. The heart of each semester is a design workshop, the aim of which is to develop an edible product (first semester), a dining tool or furniture (second semester) and a gastronomic, sustainable overall concept (third semester). The first cohort mastered these tasks with flying colours and developed a sustainable breakfast in the first semester and an eating tool for social and ecological awareness in the second.
The next course will start again in autumn 2019 - applications are already being accepted.