Univ.-Prof. Dr. Beate Cesinger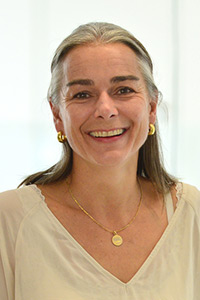 Studiengangsleiterin MSc Management by Innovation | Professorin für Entrepreneurship
Beate Cesinger ist seit dem Wintersemester 2014/2015 Studiengangsleiterin für den Master "Management by Innovation". Davor war sie Assistant Professor für Entrepreneurship an der Sup de Co Montpellier Business School in Frankreich und erwarb ihr Doktorat an der Universität Utrecht in den Niederlanden.

Ihre Forschung konzentriert sich vor allem auf die Themengebiete: International Entrepreneurship, Psychologie & Entrepreneurship, sowie Gender und Management. Zu letzteren Forschungsfokus leitete sie das vom deutschen Bundesministerium für Bildung und Forschung sowie Europäischen Sozialfonds geförderte Projekt "Durch Selbständigkeit zur Doppelkarriere" Berufs-,
Partnerschafts- und Lebenskonzept erfolgreicher Gründerinnen".

Sie hat unter anderen in folgenden internationalen anerkannten wissenschaftlichen Fachzeitschriften publiziert: Journal of Business Research, Management Decision, Work, Employment & Society, European Journal of International Management, and Journal of Entrepreneurial Venturing. Beate Cesinger hat zudem eine erfolgreiche Golfausrüsterfirma mitgegründet.

Zu den aktuellen Publikationen.